Meet Our Hunting Guides at Blonhaven Hunt Club
For those of you who don't have your own dogs we offer the most professional guides' and dogs available.
All of our guides and dogs are experienced hunters who have a true love for the sport of pheasant hunting. Whether it is your first time in the field or you're a seasoned hunter, our guides will use their knowledge and skills of pheasant hunting to increase your shot opportunities as well as your shot success rate.
Our guides are also experienced dog trainers that are happy to share their knowledge and give tips and pointers on what you need to start your own hunting dog. We also offer professional dog training services, contact the clubhouse for details.
When you visit the clubhouse at Blonhaven you will see a few of the trophy's our guides' dogs have won in hunt trials over the years. Meet our Guides: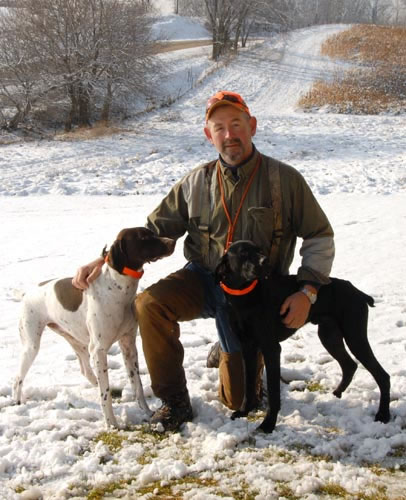 Hello my name is Mike Dunn.
I have been guiding pheasant hunts for 10+ years.
I have German Shorthairs named Willie, Otto, and Bogey.
I also enjoy competing in pheasant hunting tournaments across the country. Some of our tournament trophys are on display in the clubhouse at Blonhaven.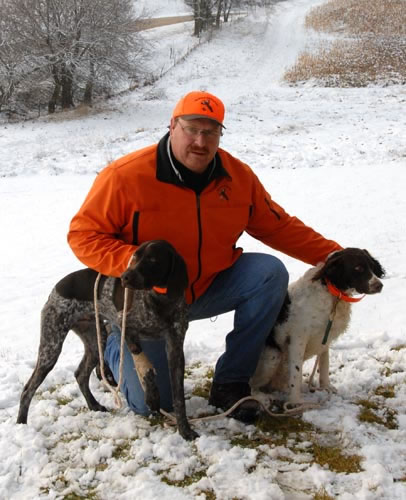 Hello my name is Don Owens.
I have 15 years of pheasant hunting guiding experience and started at Blonhaven in 1998.
I have a Brittany Spaniel and a German Shorthair and their names are Buck and Phez.
Buck is the older more experienced hunter and Phez is a work in progress being about a year old. Both are great compainions as well great bird hunters.
I am pleased to have the opportunity to be your guide and will make it my goal to give you a hunt you won't forget.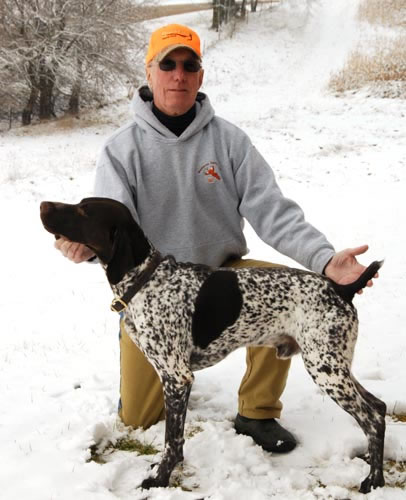 Hello my name is David Hill.
I am relatively new to guiding at Blonhaven Hunt Club but have been in the dog business for well over forty years. I have a few dogs I use for guiding from the line-up of German Shorthairs and mainly guide with Corkey, Trisha, and Joe.
My wife and I established HillHaven Kennels in 1965 because of our love for dogs and to campaign our line of German Shorthaired Pointers throughout the nation. With the help of my family we have many dual and national field trial champions for ourselves as well as customers.
I really enjoy taking all ages of people hunting and it is my goal to show everyone an enjoyable time that they will not forget.
Hello my name is Dennis Sailing.
I have been guiding pheasant hunting for 10+ years.
I have German Shorthairs named Gump and Bubba. Gump is 12 years old and Bubba is 2 years old.
I enjoy watching kids on their first pheasant hunt and being a part of the memories that will last a lifetime.
Hello my name is Brian Cherry.
My German Shorthairs are Neo and Rowdy. Neo is 3 years old and Rowdy is 2 Years Old.
I have been guiding pheasant hunts for 10 + years and really enjoy meeting new people and being a part of a young hunter's first opportunity at shooting a pheasant.